Signs from Spirit & More - A Conversation with John Burgos
I was honored to have a soulful discussion led by John Burgos on September 28 on "Beyond the Ordinary".
Here's a link: Watch the replay
One of the main messages that my guides kept asking me to talk about to you was about our already-infinite level of completeness, as they are saying it right now as I write this. What if you are already complete and whole. What if you have accomplished what you needed to. AND what if you get to turn that into the jet fuel for your future creations...like in fun, pleasure, creating your healing or other business....just for the joy of manifesting? How does that feel to you?
What I know is that I wouldn't have gotten to ANY of these realizations, these gifts, the life I am living, the relationships I have, without Spirit--and also the myriad signs I have gotten for years that literally have saved my life a few times.
But now, the signs are pointing to so much more splendor and it's starting to get a whole lot more fun (even as I continue to work very diligently at parceling myself out of a lot of the old energy, habits etc. that were part of me from my early years.) It's just happening most of the time in much more heightened experiences.
Like for instance, take this very literal sign I got in August:
Many of you know that I have a cat named Triton. Our angels brought him to me right when I needed him. We got that little kitten boo in 2020, and I held him the first night and asked him what his name was. As clear as anything, in my mind's eye, I saw a merman, and in all bold letters in my mind's eye, like on a marquee, the name: TRITON. And so it began. And I knew I was dealing with a supreme being of some sort, whether in that teeeny body or whatever is behind the veil or whatever is helping me. I don't know how it all works and I don't have to. I just know that I listened. And he is a majestic guardian animal for me. (His little brother, ironically named Zeus, is more like a teenage frat kid that has the good life and let's Triton groom him daily, which just cracks me up.)
Ok so back to the sign I got in August: I had gone around for 3 days and found the best new place to live here in Florida. When I drove to the airport, into the car rental return...check out what I found on the ground right next to my rental parking space:
And in that moment I simply KNEW I was headed in the right direction. I trusted. Even more than I already had because this whole move took a whole lot of courage and trust.
Trusting is one of the keys. I didn't let myself go into doubt or a made-up story about it all. I just....let it in.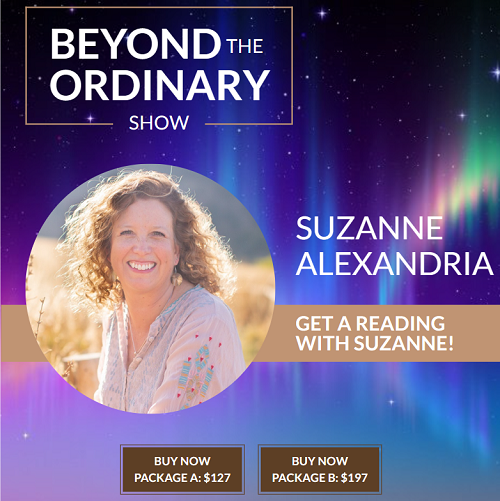 So, 2 things for you:
If you want to learn about your own team more, and how they bring you signs through all of your intuitive channels...then take the class offered as my special offer on BTO.
Click here for this SPECIAL OFFER
And if you'd like to listen in to our conversation about the signs & intuitions we are getting these days leading us all on our collective paths,
Click here: Listen to the show xoxo.
===
P.S. I love seeing you on Monday Coffee chats.
Join any Monday evening & explore these & other topics, like living a spirit-guided, informed, conscious life. Because it's pretty worth it, and we're doing it together.
See you soon,
--Suzanne
Join the Alexandria Institute.
Classes, sacred events, special offers + inspiration.
No Spam. Only Love.